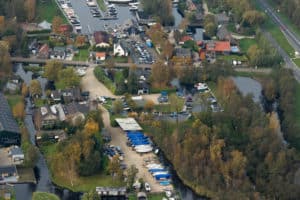 Alufleet B.V. stands for craftsmanship
High-quality aluminum boats are built on the yard of Alufleet B.V. in Kortenhoef. Alufleet builds various models of aluminum boats for both the private and commercial market. In addition to building boats, Alufleet B.V. performs various other aluminum work.
At Alufleet we show that welding aluminum boats is an art. The entire process, from design to launch, takes place at our own yard.
This allows us to guarantee quality and guarantee that everything is executed as desired.
All Alufleet boats are custom made. We supply boats as hull, technically
ready to sail or completely ready to sail. The wishes of our customer are our
top priority. We work from hull models where we offer a number of standard additional options. We listen to the specific wishes of each customer and think along with the client at all times to realize the special wishes. Because of this we sometimes come up with ideas/solutions that the customer had not yet thought of.
Since all of our boats are built entirely at our own yard, almost all your wishes are possible. We work together with design agencies FCY Design and Van de Visser Engineering.
Alufleet stands for years of carefree sailing pleasure and a no-nonsense look!
Characteristic features/advantages of aluminum:
Sustainable;

Light material;

Saltwater resistant;

Maintenance free;

Self-draining/unsinkable;

All our models are designed by a yacht designer, so they all have perfect sailing characteristics;

Hufterproof;

All our boats are hydraulically steered;

Much attention has been paid to the installation of the electricity and equipment;

We also pay attention to aspects that are not immediately visible (including more frames than with comparable boats and all parts are burned off around). Details that you will appreciate over the years;

We only work with quality welders and only deliver high quality. We believe that this should be seen and therefore do not grind away the welds. We personally believe that this is part of the look of the boat. No nonsense!

An additional advantage of not grinding away the weld is that the weld remains strong over the years;

We work with reliable suppliers who all offer high-quality materials and components. Including the best quality aluminum.
Alufleet Aluminum Boats B.V. was founded in 2012 and is a full sister company of shipyard Gebr. de Kloet B.V. (www.de-kloet.nl), an established name in the water sports sector since 1959. Over the years, we have built up a good reputation both nationally and internationally.
We guarantee quality, reliability and service.
Innovation:
In 2018, Alufleet B.V. introduced the SpeedLounger 8500, the first aluminum daysailer in this size. And also the first sailing boat in the
Alufleet B.V. range.
The SpeedLounger 8500 is the result of a collaboration with FCY Design (for whom Alufleet B.V. also builds the LelyClass 560).
Designed byFCY Design B.V. and built by Alufleet B.V.
More information about the SpeedLounger 8500 can be found on the website www.speedlounger.com.